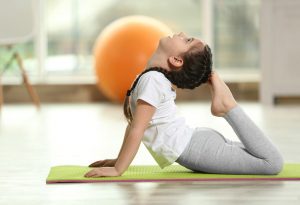 One of the most popular exercises that deals with flexibility, strength, and breathing is yoga. Hence, there are mental and physical health benefits when practicing this exercise.
There was an increase in the percentage of yoga participants in the US between the years 2012 and 2017. This increase was from 3.1% to 8.4% among children and 9.5% to 14.3% among adults.
An interview survey conducted by National Health showed that the major reason that 94% of yoga participants in the US practice yoga is for wellness. Respondents indicated that yoga has helped them improve their health by:
      Motivating them to practice more exercise routines.

      Encouraging them to eat healthily.

      Boosting the quality of their sleep.

      Reducing stress levels.

      Inspiring reduction in smoking and alcohol use.
STRESS REDUCTION
A lot of people practice yoga to aid relaxation and reduce stress levels. The stress level reduction mechanism in yoga is now being studied by scientists.
Consistent surges from stress hormones like cortisol and adrenaline may raise blood pressure and cause significant damage to blood vessels. However, according to research, people who regularly practice yoga experience low cortisol levels.
Research shows that participating in yoga for 3 months lowers perceived stress and cortisol levels and causes a reduction in pro-inflammatory cytokines.
ANXIETY RELIEF
Panic disorder, post-traumatic stress disorder, phobias, and social anxiety disorder are a few of the diagnoses for consistent anxiety.
A meta-analysis in 2016 showed that participating in Hatha yoga had a positive effect on anxiety. At the beginning of the analysis, people with the highest forms of anxiety had the most benefits from yoga.
Another study in 2010 indicated that anxiety levels and overall mood were more improved by yoga rather than by taking a walk. The researchers attributed this to an increase in the levels of gamma-aminobutyric acid, a chemical in the brain.
This website presents yoga as an amazing treatment to relieve anxiety as well as other products.
DEPRESSION MANAGEMENT
Over 17.3 million US adults experience major depression every year.
Talk therapy and medications are often prescribed for the treatment of depression. However, yoga has also shown some amazing results as an alternative therapy.
A systematic review in 2017 discovered one of the benefits of practicing yoga is reducing the symptoms of depression in a lot of people. People who are pregnant, caregivers, and postpartum women are not exempted.
Participants from research conducted in 2017 showed a significant reduction in the symptoms of depression after 2 months of Sudarshan Kriya yoga practice.
A reduction in stress hormones and cortisol have been attributed to the positive management of depression benefited from practicing yoga.
DECREASE IN LOWER BACK PAIN
About 80% of adults experience pain in their lower back at various points in their lives. This negatively dampens their ability to exercise, sleep, and perform daily tasks. If you are looking for an inexpensive and convenient means of finding relief, then you should consider practicing yoga.
An analysis in 2017 connected improvement in functions related to the back and relief from lower back pain with yoga.
Active military personnel and veterans have reduced chronic lower back pain by simply practicing yoga. This set of people experience this back pain more often than most other people in the country.
Improved scores for pain intensity, opioid use reduction, and disability among military veterans after a 12-week yoga routine was discovered in a study.
Other studies indicate that yoga can provide the same effect for back pain relief as physical therapy. The benefits of yoga may last for several months.
BOOSTING LIFE QUALITY DURING ILLNESS
A lot of people practice yoga as a complementary treatment alongside conventional medications to boost the quality of their lives.
A few strands of evidence indicate that yoga can boost the quality of life for several people under the following conditions:
     

PROSTATE CANCER:

Studies indicate that committing to a yoga class twice a week can reduce fatigue regarding the radiation treatment of prostate cancer. Hence, participants will notice significant improvement in their urinary and sexual functions.

     

STROKE:

Motor function and post-stroke balance can be improved by practicing yoga. These benefits may be noticeable after 6+ months by consistently practicing these yoga routines.

     

ULCERATIVE CLITORIS:

People diagnosed with ulcerative clitoris may experience a vital boost in the quality of their lives after practicing yoga for 12 weeks. Reduction in clitoris activity is also among the benefits of enrolling in a weekly yoga class.